WordPress Themes of 2023
In the vast universe of website design, WordPress stands tall as a trusted companion for bloggers, businesses, and creatives alike. With its remarkable flexibility and an extensive library of themes, WordPress empowers users to craft stunning websites without breaking a sweat. If you're on the hunt for the best of the best of WordPress themes, you're in for a treat. This article will dive into the most popular WordPress themes that are making waves in 2023.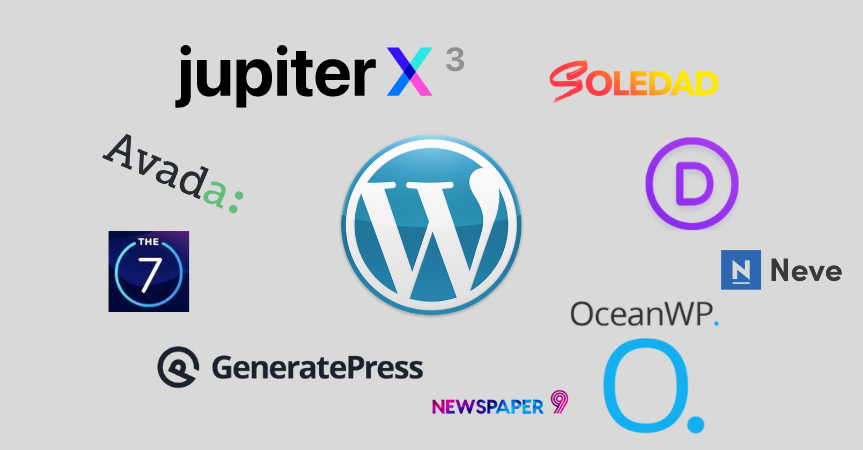 Astra's popularity is no surprise. This lightweight and highly customizable theme come with a myriad of starter templates to cater to various niches. Its speed and performance optimization are top-notch, ensuring your website loads swiftly, keeping your visitors engaged. With Astra, your creativity knows no bounds, thanks to its compatibility with page builders like Elementor and Beaver Builder.
Divi has been a crowd-pleaser for years, and 2023 is no exception. Its intuitive drag-and-drop builder empowers both beginners and experts to create stunning layouts effortlessly. Divi offers a vast collection of pre-designed templates and modules, allowing you to craft a unique website without starting from scratch. It's like having a design studio at your fingertips.
OceanWP rides the wave of popularity with its feature-rich offerings. This theme is highly customizable, with options for headers, footers, and page layouts. What sets OceanWP apart is its deep WooCommerce integration, making it an excellent choice for e-commerce websites. The responsive design ensures your site looks fantastic on all devices, contributing to an optimal user experience.
Avada has long been a heavyweight contender in the WordPress theme arena. Its impressive Fusion Builder enables you to create complex layouts with ease. With a plethora of demo options and a focus on customization, Avada allows you to tailor your website to your heart's content. Plus, its regular updates and customer support ensure your site stays fresh and functional.
GeneratePress stands out for its simplicity and speed. This lightweight theme prioritizes performance without sacrificing design flexibility. With its modular approach, you can activate only the features you need, resulting in a streamlined and fast-loading website. GeneratePress integrates seamlessly with popular page builders and supports microdata, contributing to improved SEO.
If you're all about captivating visuals, Soledad might be your muse. With over 6,800 demo homepage variations, this theme caters to virtually any niche or industry. Its versatility extends to blog layouts, making it a go-to choice for bloggers seeking a stylish platform to showcase their content. Soledad's design possibilities are nearly endless, making it perfect for those who love to experiment.
The7 is a versatile theme that's well-loved by creative professionals and businesses alike. Boasting a library of professionally designed demos, it offers a quick start for various industries. What's impressive is the theme's integration with WPBakery Page Builder and Ultimate Addons, making customization a breeze. The7's features extend to a responsive design, ensuring a seamless experience across devices.
Neve's popularity is rooted in its lightweight design and lightning-fast performance. This theme is designed to optimize mobile and desktop loading times, contributing to a positive user experience and SEO rankings. Neve's compatibility with popular page builders and its ready-to-import starter sites make it an ideal choice for those looking for both simplicity and versatility.
Newspaper, as the name suggests, is tailor-made for content-heavy websites. If you're a publisher, magazine, or news site owner, this theme is your ace in the hole. With over 100 ready-to-use demo templates, Newspaper offers a world of possibilities for showcasing articles, images, and videos. Its engaging design options and seamless integration with ad networks make monetization a breeze.
Jupiter X has earned its spot among the most popular themes due to its blend of design and functionality. This theme offers a powerful customization panel, allowing you to fine-tune various aspects of your website. With a plethora of pre-designed templates and the option to create your layouts using Elementor, Jupiter X caters to diverse tastes and needs.
In summary
The world of WordPress themes is as diverse as the web itself. Each theme has its unique features and strengths, catering to different niches and skill levels. Whether you're a blogger, an entrepreneur, or a creative professional, one of these popular themes is sure to align with your vision and goals. Remember, the best theme is one that not only appeals to your aesthetics but also offers the functionalities you need to create an engaging and successful website in 2023 and beyond.
Please feel free to reach out to us if you encounter any issues or require assistance.We are here to help!